Can we find a FFP2 mask, certified PPE III category and CE marked at €1,60?
Founding a reliable supplier for anti-covid products has been an adventure! Among false or non existent certifications, we had to find the right producer with the right product!
Work safety during the Covid-19: here is how it gone
The first time we heard about Coronavirus, it seemed a far danger. We certainly had no idea how much it would turn our lives upside down in a few months. Then it violently entered our everyday life, a new life made of smart working and queues at supermarkets. Suddenly panic: everybody wanted masks, but nobody had them. The mask market turned into a jungle in a few days. We were overwhelmed by a flourish of badly translated sites and our mailboxes were flooded with improbable newsletters. Even we, who have been involved in workwear for fifty years, found ourselves in difficulty.
But protecting those who continued to work despite everything was a real necessity. So we put all our professionalism into play, and embarked on our own personal odyssey into the world of mask and respirator suppliers.
Far east became far west: looking for a reliable supplier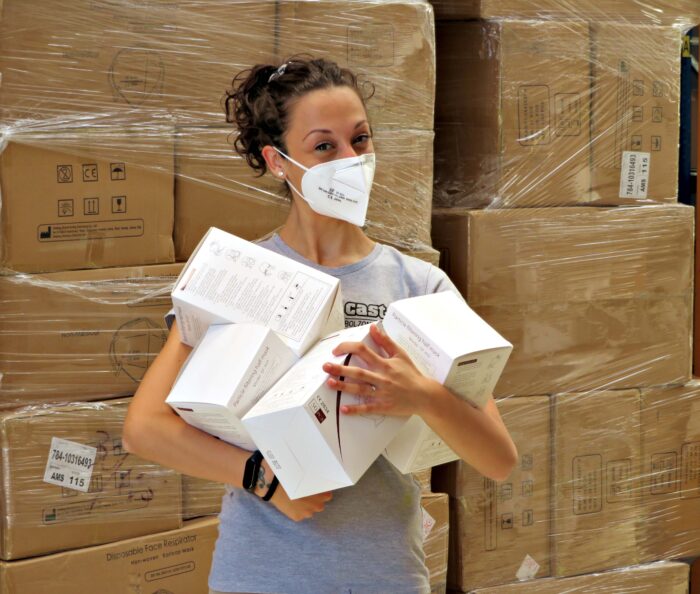 With the goal of supporting italian companies in this historical period, we did not lose heart and continued towards the result, without shortcuts. We wanted to give to our customers masks certified as PPE by organizations notified to the European Commission in the specific section N.A.N.D.O. and that were qualified to issue certifications for these PPE (Equipment providing respiratory system protection, this is the link), which would guarantee the health and safety of the wearer.  
In the general chaos, we received unacceptable proposals: false or even non-existent certifications on the devices, masks certified by entities not accredited or not suitable for PPE certification. We learned of colleagues who never received the goods or who received supplies other than those ordered. The few items in order, then, had prices completely off the market.
These difficulties made us even more aggressive, until we finally managed to find our way better in this sea of chaos and fictitious certifications.
We can say that, however, it was an intense period, full of challenges and satisfactions, like when we donated over 63,000 masks to the Padua Hospital and the Civil Defence.
Luck helps the bold: our efforts have been rewarded. For some months now we have had the pleasure of working with a serious and reliable manufacturer. By staggering deliveries on a quarterly basis, we have been able to plan alternative transport to air transport, and this has allowed us to lower our expenses.
This is how we have achieved our goal: FFP2 masks certified PPE category III and CE marked, starting from € 1.60 (contact us for commercial conditions).
Why propose real PPE and not derogatory devices?
To validate the Chinese masks in derogation, it would have been easy and fast
The devices validated in an extraordinary way and in derogation, according to art. 15 of the decree law n. 18 of 2020, in fact, are submitted by the Inail to more streamlined procedures and timing, and is limited to evaluate the documentation sent. In addition, the derogation will expire on July 31: from the following day all those devices will no longer be comparable to real PPE. Many have chosen to validate masks by way of derogation, and in fact many of those found on the market are often even without the CE marking.
Going the long way round was a must for us
The classic procedure for certifying PPE, on the contrary, is much longer and more thorough. The certifying bodies accredited by the European Union not only examine the documentation, but also verify the performance requirements of the devices with laboratory tests. Our work ethic required us to provide our customers with a certified and suitable device even after the Covid-19 emergency was over, and so we did.
What distinguishes folding FFP2?
Our FFP2 folding masks are tested and certified according to EN 149:2001 + A1:2009 (here you can see the certification) which deals with respiratory protective equipment and filtering half masks against particles, setting performance requirements, tests and markings. 
They are FFP2 respirators (they protect against low and medium toxicity aerosols), disposable devices marked NR (non-reusable) and marked D, as they are suitable for the clogging test with dolomite dust to which they have been subjected.
They are also CE marked in accordance with European Regulation 425 of 2016, which establishes requirements for the design and manufacture of devices and their free circulation in the European Union, as well as the protection of the health and safety of users.
They are category III PPE. They are therefore part of the complex design devices that protect the worker from risks that can lead to death or serious and permanent injury and are ready to be delivered.
In conclusion…
The coronavirus emergency isn't over yet. We hope that the pandemic will end soon, that a long-term solution will be found so that the markets return to true normality as soon as possible. However, if another wave of infection should come, as unfortunately many people assume, we are ready to deal with it with FFP2 folding masks and surgical masks.
For more information on our FFP2 folding masks, or to purchase them, please visit our website.
Did you find this content interesting? Share it!
Skip back to main navigation